FEEDBACK OF DESIRE
Ted Gahl, Shara Hughes, Christoph Rossner
January 15 - February 20, 2016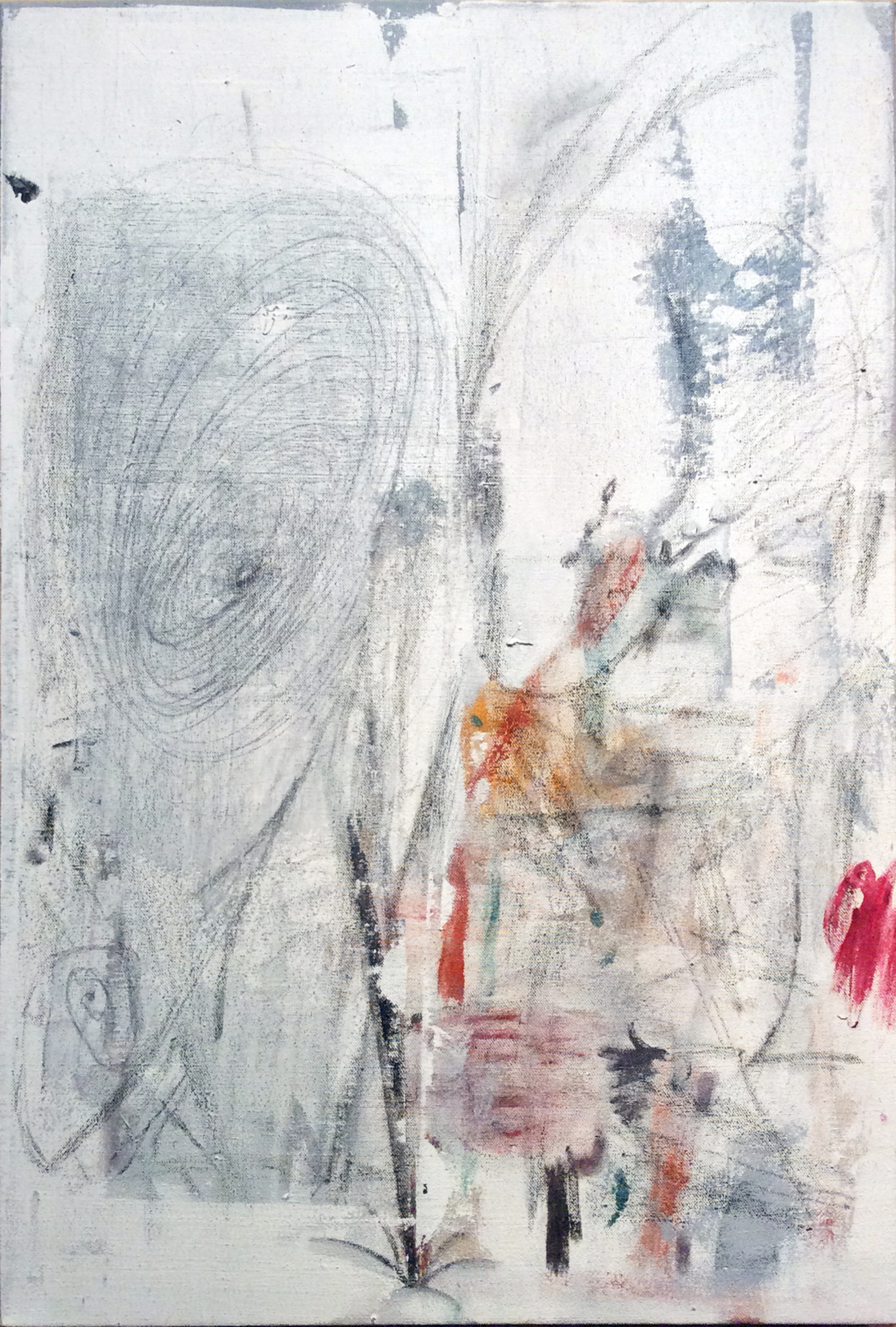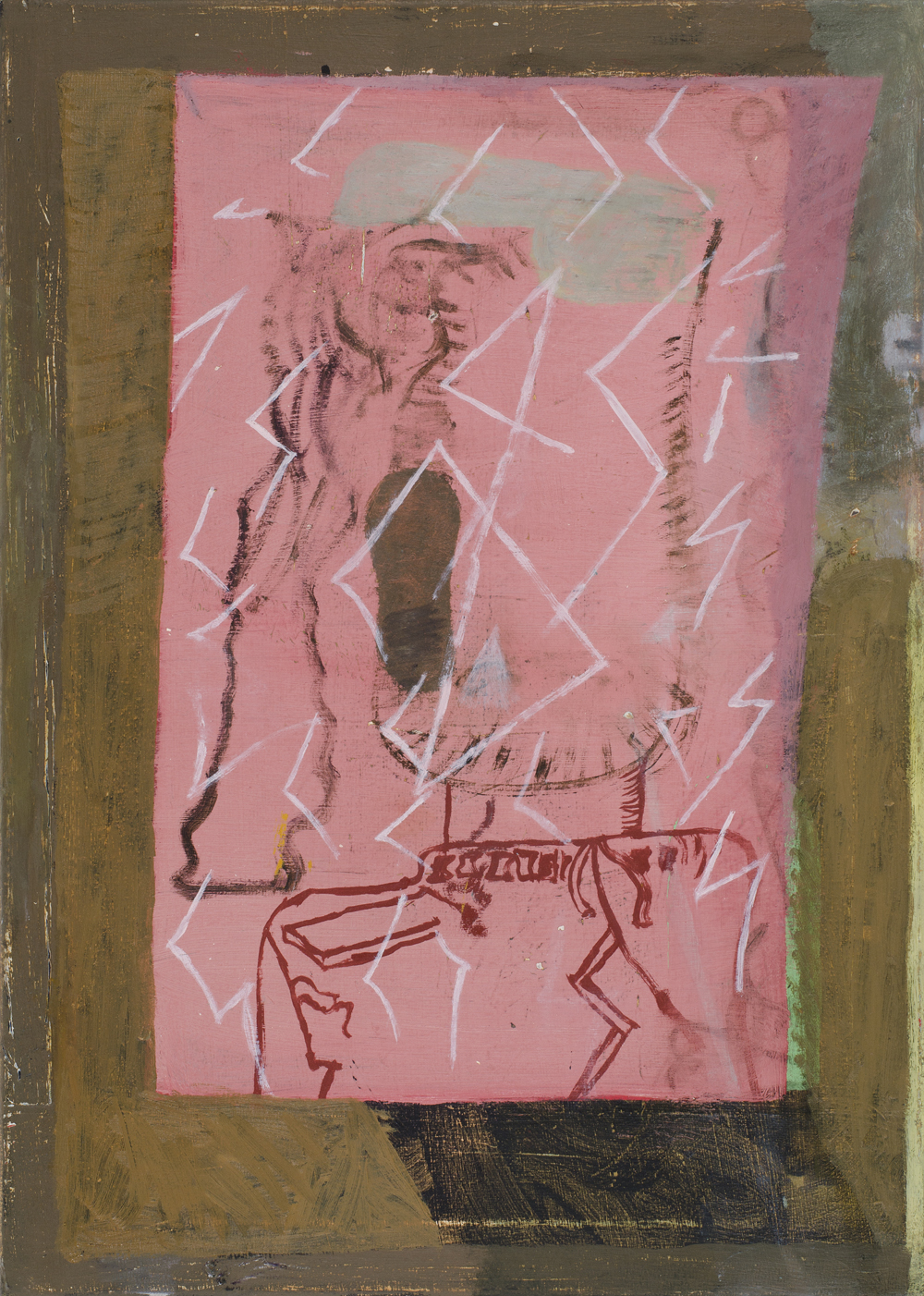 Romer Young Gallery is pleased to present Feedback of Desire, a three-person exhibition featuring Ted Gahl, Shara Hughes and Christoph Roßner. There will be an opening reception on Friday, January 15, 6-9pm.

In his 2002 essay on the Danish painter Tal R, Lars Bang Larsen writes: "The figurative elements in Tal R's work are inflated as if by a feedback of desire, a drive that turns back on itself like the sound of electric feedback or a clogged garden hose...His work speaks of the way desire can reduce, multiply, or elaborate an object; either technically, in the density of paint or hatching, or in the motif itself." This concept, with its humor and intensity, is what unites these three painters.

Gahl, Hughes and Roßner's work all exist in the borderland between representation and abstraction. With deft understanding of painterly tradition, these three artists confidently and independently traverse the pictorial plane, adding their own personal interpretation. Beginning with a figurative, still life or landscape as the strategic basis for creating a painting, the elements are distorted, transformed, and turned inward resulting in abstracted visions. Clearly hooked on the pleasure of making, the images are produced by this never-ending loop of desire – a desire to make that keeps them making, a process controlled by its results, personalized by individual and expressive mark making, distorted by personal feedback. The paintings feel as if they are in this cyclical feedback with their maker, without concern for a viewer, while simultaneously rewarding any viewer who looks.

Ted Gahl (b. 1983) received his BFA from Pratt Institute in 2006 and his MFA from Rhode Island School of Design in 2010. Recent solo exhibitions include Halsey McKay Gallery, East Hampton, NY; Meier Gallery, Los Angeles, CA; Dodge Gallery, New York, NY. Group shows include Regroup, Galleri Jacøb Bjorn, Aarhus, DK; Ghost Current, curated by Ryan Wallace, V1 Gallery, Copenhagen, DK; Don't Look Now curated by 247365 at Zach Feuer, NY; That's the Neighbor, Always Dressing These Boulders in the Yard curated by Torey Thornton at Suzanne Geiss Company, Mental Furniture curated by Petrella's Imports at Night gallery, and All a Tremulous Heart Requires curated by Brad Hajzak at ZieherSmith & Horton. Gahl lives and works in Connecticut and New York. He is represented by Halsey McKay Gallery, NY.
Shara Hughes (b. 1981) received her BFA from Rhode Island School of Design in 2004 and studied at the Skowhegan School of Painting and Sculpture in 2011. Recent solo exhibitions include Far Out at American Contemporary, Midnight Snacks, Institute 193 in Lexington, KY and Guess You Had To Be There, Museum of Contemporary Art, Atlanta, GA. Hughes' work has also been exhibited at, Jack Hanely Gallery, Salon 94, New York, Atlanta Contemporary Arts Center, High Museum of Art, Atlanta, David Castillo Gallery, Miami and international exhibitions include Metroquadro in Rivoli, Italy, Coburn Projects in London, Gredier Contemporary in Zurich, Mikael Andersen Gallery in Berlin, Mikael Andersen Gallery in Copenhagen and the Saatchi Gallery, London. She has received the Fellowship Award from Vermont Studio Center and the Florence Leif Painters Award from the Rhode Island School of Design in Providence, RI. Hughes lives and works in Brooklyn, NY.
Christoph Roßner (b. 1982) received his BFA at the Bauhaus University in Weimar, Germany, 2006 and his MFA at the Dresden Academy of Fine Arts, Dresden, Germany in 2011. He completed his master studies with Prof. Ralf Kerbach. Recent museum and institutional exhibitions include Oblomow (solo), Leonhardi-Museum, Dresden, Heft eins (with Jakob Flohe), FAK Foerderverein aktuelle Kunst, Münster, Anonyme Zeichner, Kunstraum Bethanien, Berlin. Recent solo and two person exhibitions have taken place at, Romer Young Gallery, San Francisco, dst.galerie, Münster, Zygote Press, Cleveland. Group exhibitions at C.Rockefeller Center, Dresden, Ankäufe der Kulturstiftung des Freistaates Sachsen, Halle 14, Leipzig, Galerie Baer, Dresden, Halsey McKay Gallery, East Hampton NY. Roßner has received several awards and residencies including Förderstipendium Talentschmiede, Dresden, Zygote Press Residency, Cleveland, Heimspiel - Kulturstiftung des Freistaates Sachsen Scholarship. Roßner lives and works in Leipzig and Dresden, Germany. He is represented by Romer Young Gallery, San Francisco, CA.