JUNE ROOM
Elise Ferguson
Opening Reception: Friday, June 21st, 6:00 - 9:00pm
Exhibition Dates: June 21 - August 3, 2019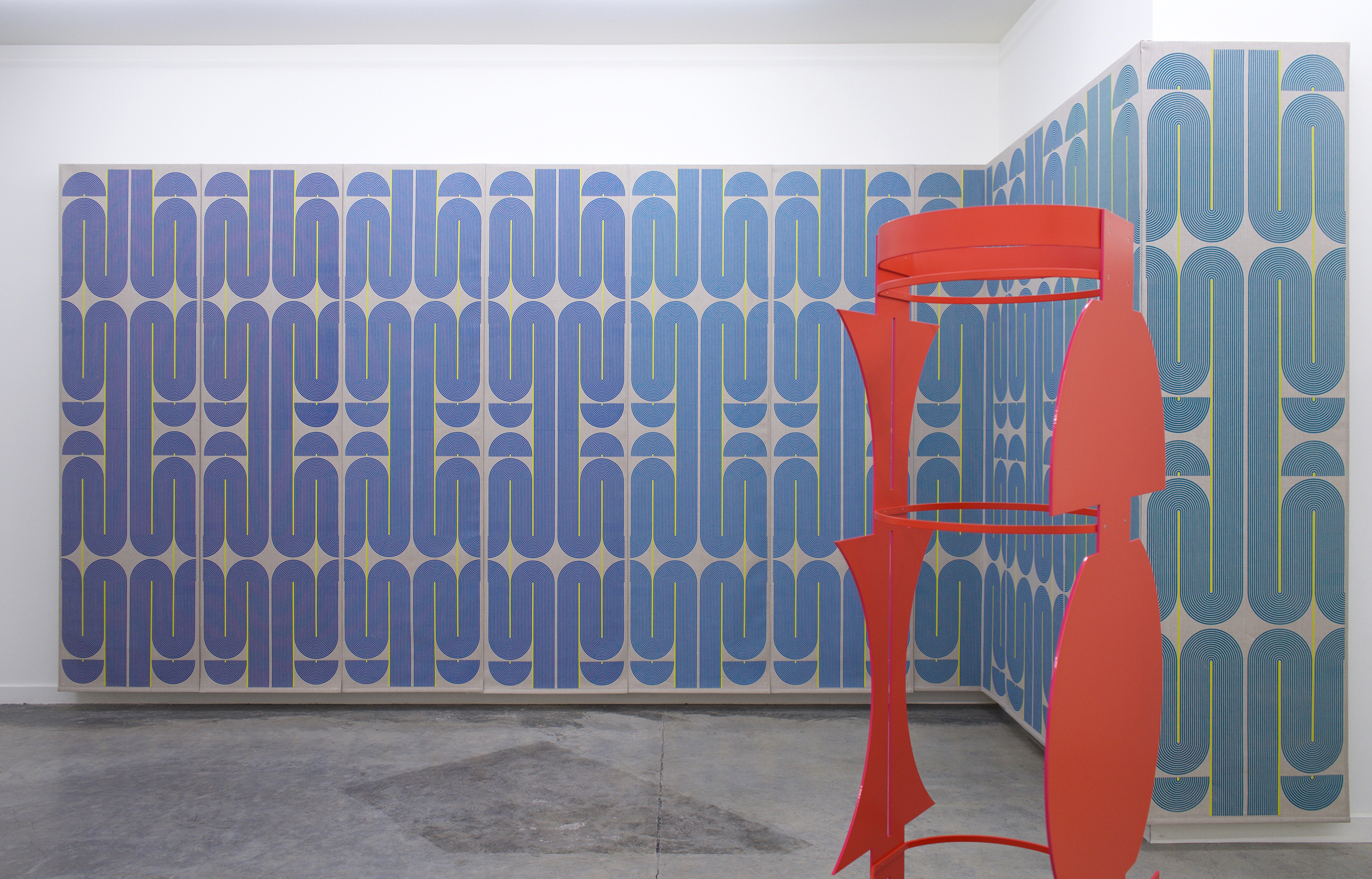 Romer Young Gallery is pleased to announce its third solo exhibition with New York artist Elise Ferguson, June Room. Using pattern and color, along with a range of process-driven approaches and modern materials, Ferguson creates works based on mathematical puzzles and geometric variations that land somewhere at the intersection of painting, sculpture and printmaking. The results are beautiful works that reflect the artist's intuitive use of geometry and her reverence for the purposely imperfect. There will be an opening reception on Friday, June 21st, from 6 to 9pm.
June Room consists of three paintings, a dual-tone aluminum sculpture and a site-specific linen wall installation. Related yet independent, the works in the room form something like a sentence - where disparate elements play a role to make meaning together. Having long employed printmaking techniques in her paintings and frequently making reference to textiles and textile design, this exhibition synthesizes several themes in her work into a single exhibition.

The linen panels of Spruce are screen printed and finished with a hand-painted yellow line throughout, tying them all together. Traces of pencil lines remain in the painted areas - highlighting the handmade quality. The work travels along the left wall and makes its way through the gallery mimicking the architectural lines of the space. Its crisp top edge and flowing body make the work something of a hybrid painting/curtain.

The powder coated aluminum sculpture, Armour, is vermillion with magenta edges. The back plate has been machined to have dimensional lines and the parts are screwed together with 6 rings. "For many years I made primarily sculptural work, but for the last 10 years my work has been paintings –paintings a sculptor would make. Armour springs directly from the paintings of the past decade."

Functioning like the three primaries of the color wheel, the paintings bring the show into a color cycle. They are composed of pigmented plaster, created by building up layers - ending up with a deckled, worked surface. The lines are screened and re-screened to also create a build up and staggered image. "My paintings spring from digital drawings but the end result has a warmth and physicality through my methods and materials choices."
For additional information, please contact the gallery at 415.550.7483 or email info@romeryounggallery.com.