MADE IN SAN FRANCISCO
Facundo Argañaraz, Greg Ito & Jonathan Runcio
April 20 - May 20, 2017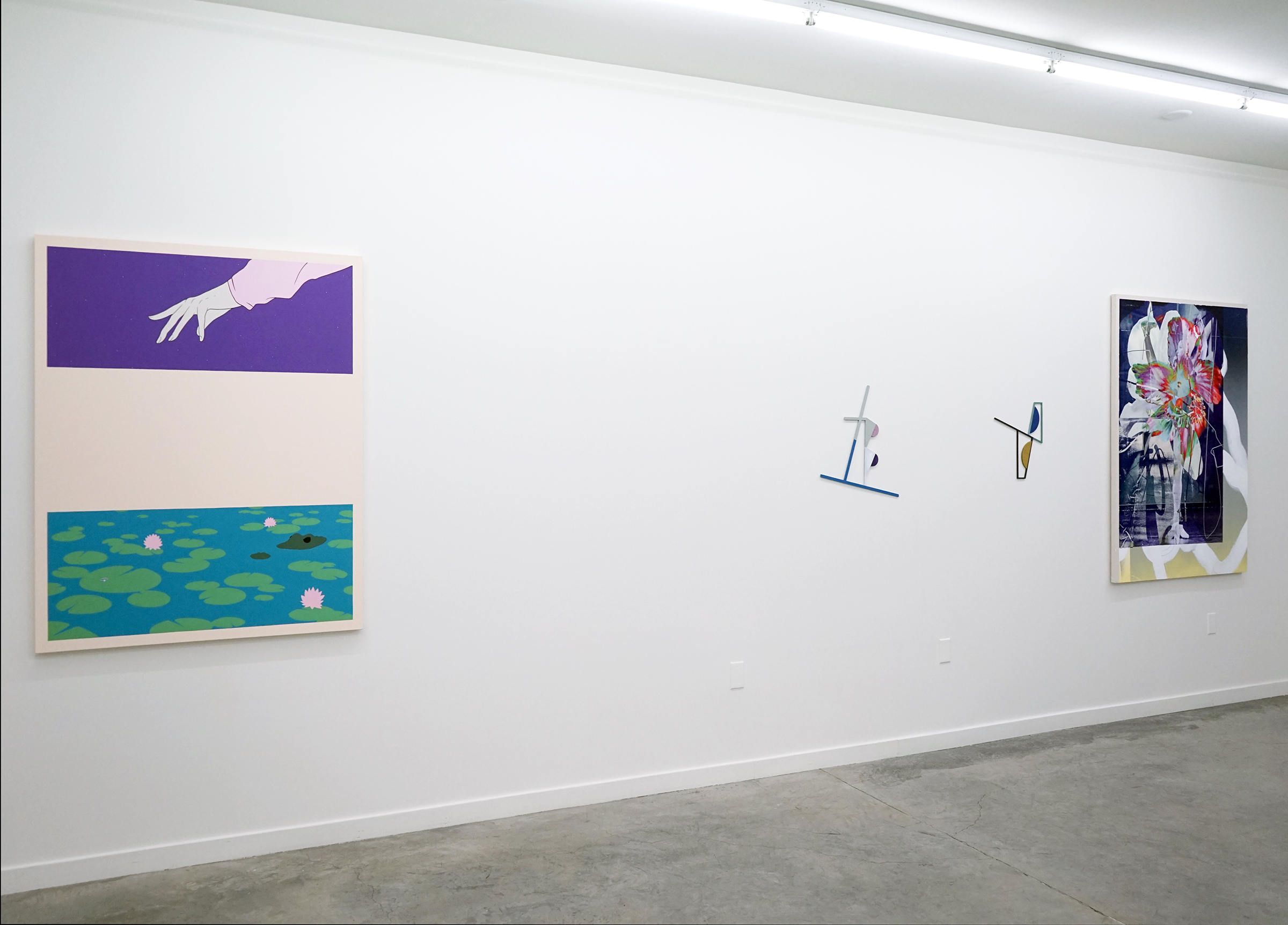 Romer Young Gallery is pleased to present Made in San Francisco, a three person exhibition featuring artists Facundo Argañaraz, Greg Ito & Jonathan Runcio. There will be an opening reception on Thursday, April 20, 2017, from 5-8pm.

"There is no tidy unity and this is not about one thing. Except for the shared ground of my mental space. Look for and follow tangential logics, directional arrows, and broken lines of connectivity between two or more artworks (artists) that seesaw and flip-flop kind of like slats on jacob's ladder. Arrive at a sense of group-show-ness that has no patience for the filler of themed-ness. Go from one thing to the next—turning an idea over and over, flipping and tripping it through time until it forms a continuous, coded narrative without characters—just relations." - Sarah Lehrer-Graiwer

Sometimes it's necessary to trust that the work, the artists and the shared space will create a synergistic experience for the viewer. That the group assembled will 'begin to describe a faction of thinking in a particular time (now) and place (San Francisco)… What more can a group show possibly hope to do.'

An off-tone color of violet was the starting point for this show. This color, which coincidentally appeared in the work of Argañaraz, Ito and Runcio, inspired the curiosity and desire to see these artists together and the subsequent desire to think about them together and their layers of interconnectedness. The sequence of adjacent viewings would inevitably take on great importance and one thing would inevitably influence, become or turn another.

All three artists began their art career in San Francisco and have been critical to the development of the art scene beyond their own practice. Argañaraz is a founding member of the gallery Et. Al; Ito is the co-founded Ever Gold Gallery and San Francisco Arts Quarterly (SFAQ); and Runcio is the co-founder and co-director of Capital. While this connection defines the title, Made in San Francisco, what is more exciting is how each of these artists are approaching painting with innovation and freshness.

ARTIST BIOGRAPHIES:
Facundo Argañaraz (b. Buenos Aires, Argentina) studied illustration and painting throughout his youth, later earning a Law degree from the University of Buenos Aires, Argentina. Facundo now lives and works in San Francisco, CA, where he is an artist, curator, and founder of Et al. Gallery in Chinatown San Francisco. He has exhibited nationally and internationally including recent exhibitions at Highlight Gallery, San Francisco; ASU Art Museum, Arizona; Greene Exhibitions, Los Angeles; The Popular Workshop, San Francisco; Sherwood Gallery, San Francisco; The Contemporary Austin, Austin; Sonoma Valley Museum of Arts, Sonoma; Queen's Nails Projects, San Francisco; David Cunningham Projects, San Francisco; The LAB, San Francisco; and MCCLA, San Francisco

Greg Ito (b. 1987, Los Angeles) earned a BFA in painting at the San Francisco Art Institute (2008). Ito is a co-founder of SFAQ, Ever Gold Gallery, and MORROSO Projects, San Francisco. Recent exhibitions include, Soothsayer, Steve Turner, Los Angeles; Summer Fling: The Barn Show, Johannes Vogt, New York; Over and Under, MON CHÉRI, Brussels; The Order of Shadowboxing, Et al., San Francisco and After Gruen at SADE, Los Angeles. Upcoming exhibitions include Shulamit Nazarian, Los Angeles; and Andrew Rafacz, Chicago. Ito lives and works in Los Angeles.

Jonathan Runcio (b. Montreal, Canada) earned his BFA and MFA from the California College of Art. He lives and works in San Francisco, CA. His work has been exhibited at the Wattis Institute for Contemporary Art, Walter McBean Gallery SFAI and Oakland Museum of Art. He has also had solo and group exhibitions at XYZ, Tokyo, Japan, Ratio 3, The Popular Workshop and Romer Young Gallery in San Francisco and Ebersmoore in Chicago. His work was included in the traveling exhibition Afterglow: Rethinking California Light and Space Art. Runcio was awarded a Joan Mitchell Foundation MFA Fellowship in 2011.