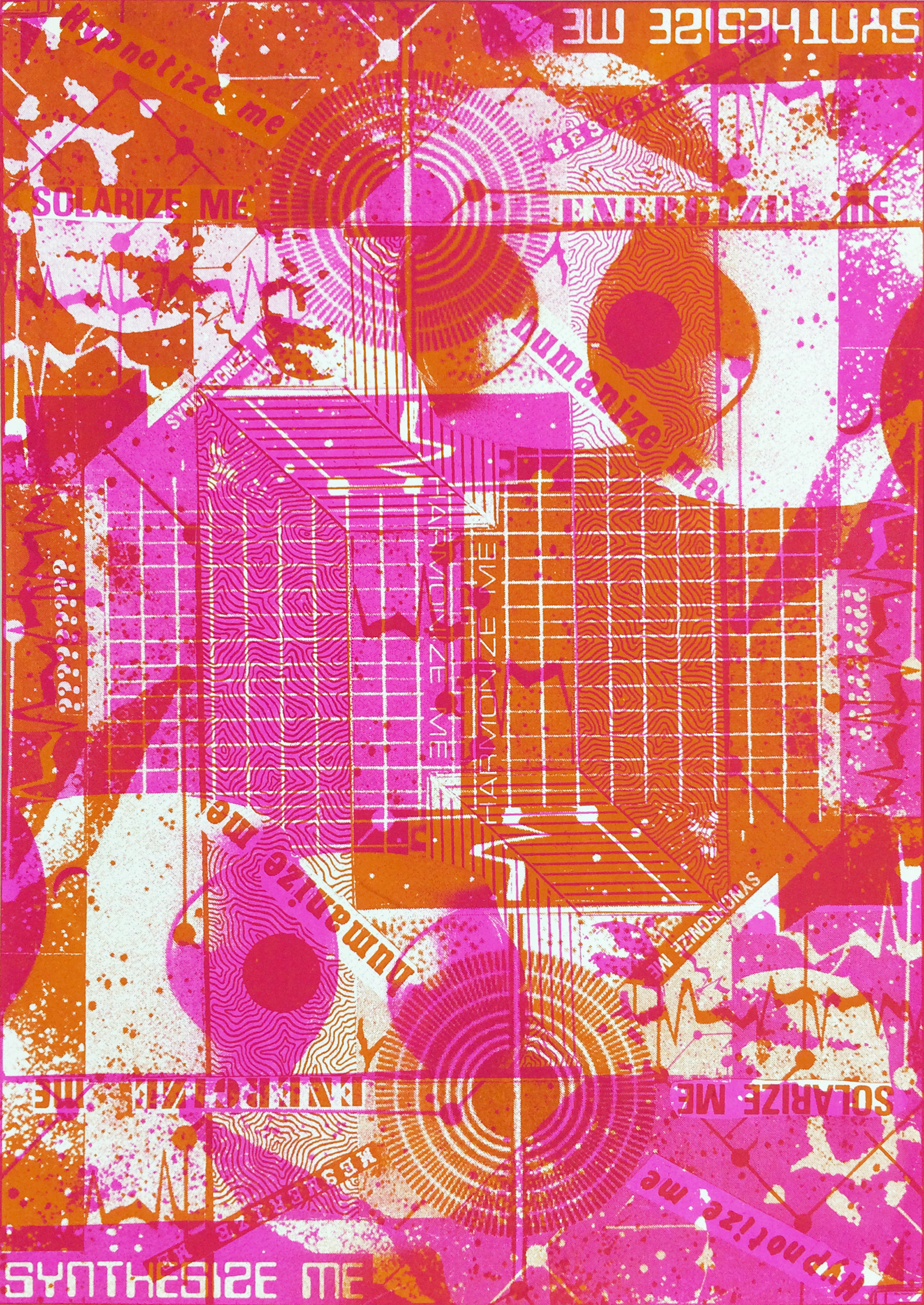 Romer Young Gallery is pleased to present its fourth solo exhibition with Berlin artist Gwenael Rattke. For this exhibition. Rattke will exhibit a new series of silkscreens and collages. There will be an opening reception for the artist on Friday, April 24th, 6-9pm.
Digital Stimulation is a 1980 album by San Francisco synth punk pioneers the Units. Rattke listened to the record repeatedly during the production of this new series of works. This new series of silkscreens and collages loosely pays homage to the codes of science fiction narrative, more specifically to sci-fi book cover graphics of the late 20th century. As well as to the formal history of the poster. In German 1970s and 1980s artistic production saw the poster, the edition, the multiple, as central vehicles of a form of egalitarian, non institutional art production. Artists such as Joseph Beuys, Sigmar Polke, Wolf Vostell, Klaus Staeck, Jurgen Holfreter utilized the silkscreen as a democratic platform. "In our era of digital monopolies, technological advances may have facilitated a great deal. But one might fear the omnipresence of technology simulataneously amplifies old systems and old patterns of dominance..."

Rattke works in collage, silkscreen, photography and xerox graphics. Rattke worked with collage for most of his teenage years producing DIY fanzines, flyers and graphics in the Berlin punk community. Rattke began his queer punk zine, Easily Grossed Out, in the early 1990's. Issues were initially published from Rennes, France, and then later from the U.S.A. The zine featured interviews with bands such as Christ on a Crutch and Capitalist Casualties. Rattke's collage works borrow from the visual codes of the 1960's and 1970's; the works are intricate, ornamental and excessive, and present "an imagined past rife with beauty and sexual freedom." Rattke's work has been exhibited at Galerie Knoth & Krueger, Exile Projects and Arratia Beer, Berlin, Skol, Montreal (2002); YYZ Artists' Outlet, Toronto, (2001), and Romer Young Gallery, San Francisco. He Graduated in Communication Studies (Film) from Concordia University, Montreal, in 1997.